Jessica's Hope Project is a newly founded 501 c 3 non-profit organization that focuses on sending
fitness-oriented care packages overseas to all branches to the military in many different parts of the world.
It started with a simple email to the CEO of 24 Hour Fitness. We are now trying to raise money to cover the shipping of
care packages overseas to our deployed military. To date we have sent over 300 boxes to our troops and raised over $5000.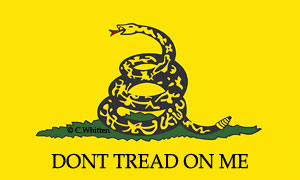 Gadsden Flag: Gadsden.info
A symbol of shared American values -- especially our highest common value: freedom.
To learn more click here.